The alarm went off at 1:30 a.m.  I anxiously rolled out of bed to go meet up with Exum Guide Jessica Baker at the Lupine Meadows Trailhead in Grand Teton National Park.  From there we would start our mission to ice climb the Northwest Couloir on the Middle Teton.  It is July in the Tetons, and ice climbing in the hight peaks is just starting to get good!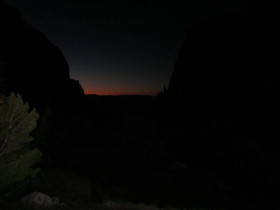 We started our hike at about 3 a.m. The combination of nerves and excitement was pretty overwhelming for me as we began hiking up the trail. I had never been ice climbing before, but I had no doubt in my mind that I could do it. I had spent the entire spring climbing and snowboarding big routes in the Tetons and Rockies. During these outings I would ascend the routes using crampons and a mountaineer's axe. The snow on the routes was sometimes very firm and variable. I also had a fair amount of climbing experience. Last summer I climbed the Exum Ridge on the Grand Teton with Jessica and an all women's crew. I also spent much of my time in the summer sport/trad climbing and trail running to stay physically strong.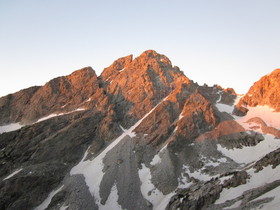 After about an hour or so we got into Garnet Canyon and started making our way to the saddle between the Middle and Grand Teton. First light was hitting the high peaks and as usual, it was beautiful. The weather for the day was looking promising. There was not a cloud in the sky, it was warm, and there was no wind at all. These are the kind of magical summer days in the Tetons that you have to take advantage of. Weather in the high peaks can change really quick though, so we weren't taking any of it for granted.
During the approach to the saddle we discussed our game plan for the day. Climbing the North West Couloir is a serious route in the Tetons because of all that it involves. Getting to the base of it requires 5.4-5.6 rock climbing on exposed and loose rock. The couloir itself rests on what I would call a hanging snowfield. The base of the couloir ends with an 1100 foot cliff, and you definitely sense that cliff when you are climbing it. The couloir is about 1,000 feet long, and is pretty darn steep. The route is usually a combination of neve and ice climbing during the summer months.
At the saddle we changed into some warmer clothes, put on all of our climbing gear, got a bite to eat, and rearranged our packs. Now it was go time, and I really started to feel the anxiety of what was in front of me. The couloir was now staring me in face, and it sure did look scary. I started asking myself questions like if I was really ready for this, am I crazy, is this worth the risks, etc. Luckily my determination and drive to do this took over these feeling of uncertainty. There are few things in this world that are more fulfilling to me than challenging myself in the mountains. It was time to send it.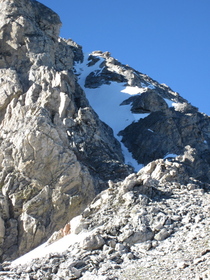 We scrambled up to the rock climbing section, and then began the fun part. The climbing was definitely spicy. Jessica was leading and kept yelling at me to climb the rock, but not to really touch anything. This made the usual 5.4-5.6 easy rock climbing pretty tricky. The last thing we wanted was to grab onto a loose rock and send it barreling down on top of us. There were sections that were very exposed too. I could see clear down into Idaho and into the Teton basins at every moment. I took deep breaths and stayed relaxed the whole time. Although I was feeling pretty gripped, I was starting to have one hec of a good time.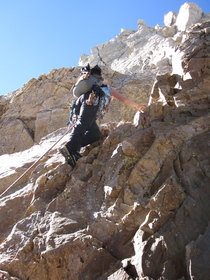 Not before too long we were at the base of the couloir. Jessica and I went over the route one more time. It was going to be done in 6-60 meter pitches. She was placing all the protection and setting up the anchors, and I was following and cleaning everything. I was extremely excited about this part. I am just at the point where I am ready to learn to lead climb, and I couldn't wait to see exactly how she placed all the protection and made the anchors on each pitch. Plus, I was excited to take out all the ice screws she was going to place. Those tools just look cool. Jessica started climbing and before I knew it, it was my turn to begin. I grabbed my ice axes and started up. As soon as I began I felt like I was in my element, and immediately fell for climbing ice. I loved that robotic feeling you got swinging the axe into the ice and then kicking your crampons in. It was very rhythmic. It also felt completely bomber and secure as well. I relaxed right away and was ready to really start having fun getting up this thing. I yelled up to Jessica and told her I just found a new passion. I felt way more comfortable on the ice than I did climbing rock for the first time.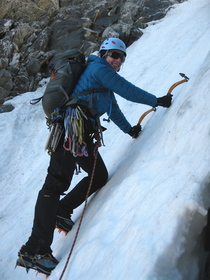 Once we got going we worked like clockwork up the couloir. The conditions couldn't of been more perfect. The ice was smooth and solid. The weather was calm….no wind whatsoever. It was warm too. I probably could  of ice climbed in a t-shirt if I wanted to. And still, there wasn't even a cloud in the sky! The looming abyss below me and anxiety associated with that was forgotten. I was fully in the moment and completely focused on the task at hand. I was having a blast.
   For the next few hours we swung, picked, kicked, placed and removed gear, belayed each other, set up and cleaned anchors, and could not stop yelling such remarks as "oh my god, i can't believe how amazing this day is!"
   Before we knew it we were at the top. The feeling of accomplishment was unbelievable. We wallowed in our stoke for a little while, and then climbed up to the summit of the Middle Teton. There was another pair of women climbers up there with us that came up the south west route. A great day in the Tetons for us ladies!  The summit was beautiful. It was hot up there too and again, no wind! Such a rare day in the Tetons. After enjoy the summit for a little while it was time to start climbing down.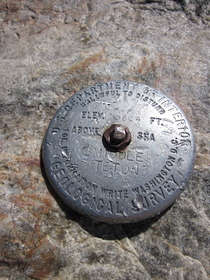 I wouldn't call down climbing the South West Couloir enjoyable at all. The rock was loose, and the snow patches were rotten and icy at the same time. We got down to a lower snowfield where Jessica went over self arresting with an ice axe with me in case I fell. She wanted to practice this, but not here because it was dangerous. About half way down this lower snowfield the snow I stepped in gave out on me. I was suddenly on my butt sliding down the steep snowfield. Jessica was yelling, "arrest, arrest!!". Luckily it was very intuitive. I flipped over onto my stomach and pressed the axe into the snow. Before I knew it I had stopped. I was shaken up a little bit, and realized that we didn't have to practice self arresting anymore on the way down. I had already done it for real:)
After we got off the Middle Teton we took a break for a while as we fueled up with food and water. We still had a long way to get down to the valley floor, and decided to take our time and enjoy the rest of this amazing day.  Luckily we were in great spirits, and had a good time hiking down while cracking jokes and enjoying the high from our successful day.
At 9pm we got down to the trail head. There was a full moon out. We had been going at it for 18 hours! It had seemed like decades ago that we started up the trail at 3am. I had some cold beers waiting for us in the car. We cracked them open, made a celebratory toast, and finally rested our physically exhausted bodies. At a spiritual level though, I don't think I could of felt any better!!
I can't wait for my next adventure in the mountains. Jessica Baker was a blast to climb with. I can't thank her enough for teaching me so much, giving me the confidence I needed to succeed, and being such a knowledgeable and passionate mountaineer!
For more information on Jessica and all that she has to offer to those interested in challenging themselves in the mountains , check out her site at http://www.skidivas.com
Watch the video of our day:
North West Ice Couloir-Middle Teton-7.25.10 from michellescreative on Vimeo.