Its hard to believe that I have been in northern country for over a month now…time flies when you are having fun, or perhaps when flying (in a helicopter), time seems to slip away.  Or perhaps its the endless span of mountainous terrain that takes you into another world, one without a sense of passing time… just sunrise, sunset, angles of light, and texture of snow.  Whatever the case, I find myself in a wonderland of mountains, dear friends, and endless adventure. 
So its been over a month since I have been guiding up here in the Chugach Range of Alaska at Alaska Rendezvous Heli-Ski operation 45 miles north of Valdez.  This is my 7th year guiding for Alaska Rendezvous Guides and I have really just begun to get a handle on the terrain we have at our disposal.  In all honesty, I prefer to work and play in a place with terrain as vast as we have here in the Chugach, so that it may take a life time to get to know even just a small portion of these mountains.  Humility comes to mind.
This pic below is literally right out our door, part of the Billy Mitchell massif… (I never get tired of these views)
We ski these lines.  Oh, the endless possibilities that we have at our disposal here.  It never fails to inspire…
The pic above is at the top of a 5000' run with the Copper River behind me.  I want to share it with everyone.  This blog is a measly attempt to convey the inspiration and gratitude I have for these mountains, this place, and the people I work with.
Speaking of people I work with, every day I put my life in the hands of my helicopter pilot.  (Jarod, Tyler, and Angus thank you!) The highly skilled pilot then takes me (and my group, perhaps you one day if you haven't already joined me up here) to the top of the mountain, drops us off, and then picks us up 3000' to 5000' vertical feet below, ready for more.  Its crazy really! Gluttonous, yes.  Glorious, absolutely!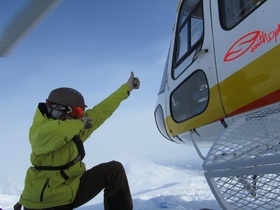 And the snow!  The Chugach has a very unique snowpack… generally well bonded and stable, allowing us to ski slopes up to 60 degrees.  We call it "Chugach magic"… the bonding of the stellar snow crystals onto some of the most exciting ski terrain in the world.  And the beauty of it really?… its soft and fun to ski too!
All in all, 2011 has been a fantastic Alaskan heli-ski season.  With one week remaining before we close our heli-ski season at the Rendezvous, I can't help but wonder how it all went by so fast?   And yet my experience, albeit foreshortened, is rich with good memories, new wisdom, and expanded perspective.  Perhaps I need to stop imposing time and dates, and days, and start living in the 'Alaskan mountain time' that I have become a part of.  Simple, and in the moment.
I part with a few more photos from the season.  Cheers!
Lunch heli-side.
Big smiles on a big AK day!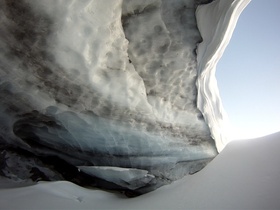 Ice cave (moulin outlet)
Alaska Rendezvous Lodge/Base from the helicopter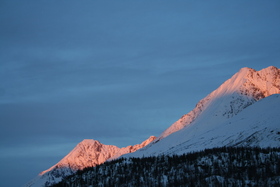 Sunset on Happiness (the mountain and the emotion)