Need to kick start your Fall and Winter fitness goals?  Tired of your same old exercise routine?  Stuck in a rut with your fitness?  Or perhaps you just want to be stronger, have more stamina and endurance for your upcoming winter season?  Need some motivation and coaching?  Want to workout with like-minded women, in an inspirational setting?  Or maybe want to prepare yourself physically and mentally for one of Ski Divas upcoming camps?  Well then look no further, the Ski Divas/Mountain Athlete Fall training camp is for you!
Ski Divas has partnered with world famous gym and training center, Mountain Athlete to create a cutting edge training camp for women who want to improve their overall fitness and get in shape for the ski/winter athletic season.  Mountain Athlete is the premier training gym in the world for mountaineers, climbers, big mountains skiers, adventure racers, snowboarders, professional snowmobile racers, explorers and alpinists.  Mountain Athlete is best known for training professional athletes and aspiring pros, however, this camp is a unique opportunity to get coaching from the best no matter what your athletic background.   If you have the motivation to do it, we will take your fitness to the next level.
What can you expect from this camp?  We will spend 7 days working on your fitness, nutrition, mental game, and two days of rest and recovery in the perfect Teton setting.  Our workouts will include exercises to improve your strength, agility, stamina, and endurance.  Morning and/or afternoon gym sessions daily, with day time excursions including, hiking, biking, running, rock climbing, paddling, and hot springs soaks. Morning gym sessions will generally be the most physically demanding, and afternoon sessions will be dedicated to nutrition and planning future programming for your own fitness needs.  There will be several evening sessions with a guest speaker.  Speakers will include Rob Shaul- founder and owner of Mountain Athlete and Military Athlete, Crystal Wright-Big mountain freeskiing champion and personal trainer, Jessica Baker- founder and owner of Ski Divas, and more TBA.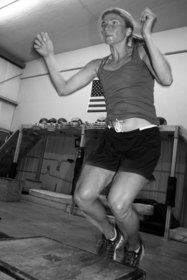 What is included in this camp:
5 days coached training in the Mountain Athlete gym, Jackson, WY.
2 days of alternate rest day activities including hotsprings, spa day, and yoga.
7 nights/days room and board at The Alpine House bed and breakfast.
7 mornings breakfast.
Personalized training program to continue once you leave the camp.
Camp t-shirt