Photo Copyright Joey Schusler
Join Ski Divas founder and professional mountain guide Jessica Baker and other highly qualified IFMGA-AMGA certified guides, on a backcountry ski touring and sailing trip of a lifetime in the western fjords of Greenland and surrounding terrain. You will spend 10 days aboard the Knut sailboat, sailing and skiing your way from Maniitsoq, Greenland to incredible ski terrain in the region. You will find peaks jutting up over 6000 ft (2000 m) in elevation out of the sea, glaciers, Greenland's ice sheet, wildlife, and stunning scenery. Explore uncharted waters and new terrain daily, all from the 'basecamp' of the Knut sailboat.
Photo Copyright Maremotrice Association
About the boat: The Knut sailboat is a 50 ft (15.16 m) long aluminum "green" sailboat, modified for the rigors of arctic waters. The Knut holds up to 4 guests, plus guide and crew. The Knut is a "green" boat because it runs on purely renewable energy resources; sails to capture wind, wind turbines, solar power, batteries to store power, and an electric engine. The experience is serene and shows you what is possible in the the realm of renewable energy.
If you have wanted to try sailing, or you are a seasoned sailor, this trip allows for a hands-on experience on the boat. If you wish to sit back and relax and enjoy the show, then you are welcome to it as well.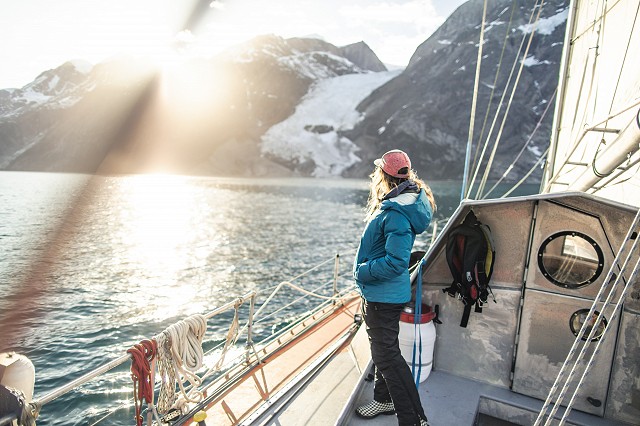 Photo copyright Joey Schusler
Our client to guide ratio on the Knut sailboat is 4:1 max, and therefore creates an intimate and unique ski trip tailored to the group. Have a group of friends who want to go? You can fill the spaces to make it private. Running solo and want to go on a big adventure, sign up and join others looking for the same adventure. Please note, these trips are open to co-ed groups. If you wish to put together a women's only group, please contact Jessica@skidivas.com.
Price: $11,625* USD
*Prices based on a minimum of four participants. Please inquire for private pricing and/or three people or fewer.
What is included: 10 days aboard the Knut sailboat, 10 days of food (breakfast, lunch, dinner, snacks, coffee, tea), and 10 days of guided skiing (guided days depend on how far we travel in the boat and weather conditions. For example, some days may require more travel/sailing and a shorter day of skiing). One night of hotel and dinner on the front end of the trip. One night of hotel and dinner upon return if time allows (otherwise we may be on the boat for the final night before departure).
What isn't included: Airfare, taxi service to/from hotel and harbor in Maniitsoq, backcountry ski gear etc, alcoholic beverages, gratuity, travel insurance
Sample Itinerary: Day #1: Arrival into Maniitsoq, one night's hotel stay, dinner in Maniitsoq. Day #2: Move onto the boat, sail towards first objective, warm up ski tour Days #3-9: Sailing and skiing in the fjords of western Greenland Day #10: Ski tour, then return to Maniitsoq Day #11: Depart Maniitsoq
Daily vertical feet and fitness: In general, this trip requires a high level of fitness to truly enjoy the skiing and terrain. We average 2500' to 6000' vertical feet of skiing per day, but pending group we can go for more if motivated and conditions/weather warrant it.
Photo copyright Joey Schusler
Travel: Most flights to Greenland originate from Denmark or Iceland. Flights from Denmark or Iceland to Greenland are limited and even more so to Maniitsoq. It is important that you secure your flights early to ensure your arrival on time for the trip. Upon booking this trip, you will receive detailed information regarding necessary flights into and out of Maniitsoq.
Questions? Please email jessica@skidivas.com