The ultimate Alaskan Chugach Heli-skiing experience!  A must do in one's lifetime. Surround yourself with other like-minded women.  Or book a week with your family, or friends for a private adventure.
A small sampling of Chugach lines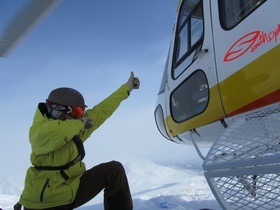 Dropped off, and good to go!
Price includes:
Transportation to and from Valdez, AK airport (45 minute drive each way)
7 nights lodging at Alaska Rendezvous Lodge (double occupancy in spacious rooms with 2-queen beds)
Breakfast, Lunch, and Dinner for 7 days
36 heli ski runs per person (for an average of 6 per day, additional runs at discounted price)
Morning Yoga sessions
Sauna
Women's specific ski workshops
Camp finale dinner and party
Please contact Jessica for more info, or check out Alaska Rendezvous Heli-Ski Guides for more information regarding the location and operation.  Please note these camps include more amenities than the normal Alaska Rendezvous itinerary, and are specifically designed for a women's specific heli-skiing experience.  We hope you can join us!
Skier's view of a pure Alaskan Chugach ski descent
View from Alaska Rendezvous Lodge