This is the ulitimate getaway deep into the Canadian Rockies.  All skiing is self-propelled once you have landed at the lodge.  Touring possibilities are endless once you are stationed at the Lodge.  With Mt. Kemmel 10,300 ft, Mt. La Clyte 9,500 ft, and Mt. Lyell 11,122 ft, immediately surrounding the lodge, there is no end to terrain within an hour walk.  And for those looking for an even more extravagant touring agenda, we can travel to the satelite hut on the Lyell ice cap for even more terrain access.  This trip is the perfect getaway for those of you looking to improve your backcountry/touring ski skills, getaway to the most peaceful, pristine, and remote lodge in North America, and to connect with an amazing group of women along the way (For those of you interested in traveling with family or spouse, please inquire with Jessica at jessica@skidivas.com or 1-307-690-3683)
[
](http://www.icefall.ca/photos/lodge/bedroom%201.jpg ""Bedroom"")
What is Included?
Helicopter flight into and out of lodge
7 nights lodging
7 days food (breakfast, lunch, and dinner, alcoholic beverages are not included.
7 days guided touring
Daily Yoga sessions
Camp party and farewell dinner, including raffle and prizes for participants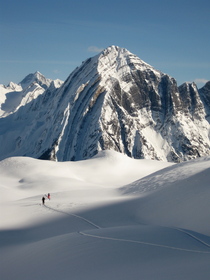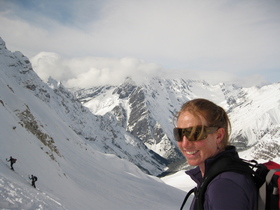 Travel logistics:
Icefall Lodge sits in the heart of the Canadian Rockies at 6300 ft elevation, just to the West of Banff Provincial Park. We meet in Golden, B.C. and then travel north for 30 minutes by car/shuttle to a remote staging area where a helicopter flies you into the lodge (25 minute flight).  The closest international airports are Calgary, B.C., Vancouver, B.C., and Spokane, WA.  Please inquire at jessica@skidivas for help with travel logistics.  Shuttles from airports can be arranged for an extra fee.