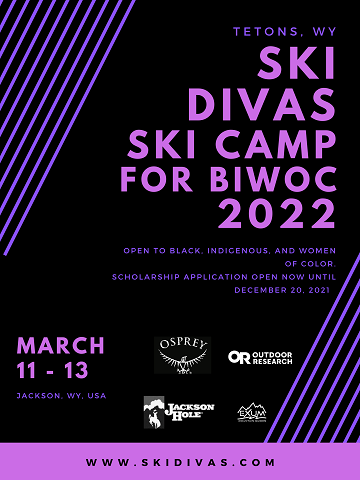 In an effort to bring more opportunity, diversity, and inclusivity to winter outdoor recreation spaces, Ski Divas LLC, Women's Ski Camps Worldwide and Ski Divas founder, Jessica Baker, will offer the 2nd annual ski camp specifically for Black, Indigenous, and women of color (BIWOC), from March 11-13, 2022. (Please note arrival date for the camp is March 10th, and departure date is March 14). The camp is based in Jackson, WY, Jackson Hole Mountain Resort, and Grand Teton National Park. This camp is open to skiers from first time beginners to advanced levels.
photo copyright Mary McIntyre
We will spend three days skiing based in the Tetons near Jackson, WY learning how to ski and/or improve your skills if you are an experienced skier. We will have a backcountry component for the final day of the camp including avalanche education, and how to safely travel in the backcountry. Evening workshops and self care routines will be offered through Medicine Wheel Wellness. This year's camp will feature guest coach Annette Diggs who is the Founder of EDGE Outdoors, a PSIA Level 1 certified ski instructor, and dedicated Equity Advocate.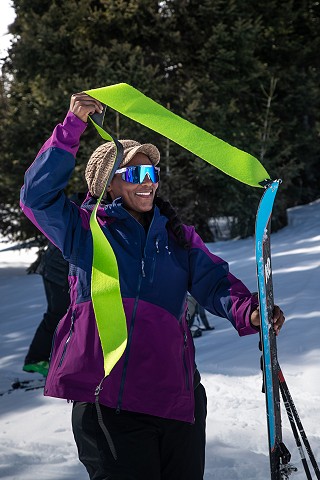 Annette Diggs stripping her skins in the backcountry of the Tetons Photo Copyright Mary McIntyre
Ski Divas, along with supporting sponsors, are offering several full-ride scholarships for women to attend the camp. Full scholarship recipients will have their travel, accommodation, coaches/instructor/guides, lift tickets, and gear costs covered in full. If additional funds remain after the initial scholarship recipients, partial financial support will be offered to runners up. Ski Divas is seeking donors who wish to donate to this cause, which will allow us to bring more women in for the ski camp. If you are interested in donating to the scholarship fund, please reach out to jessica@skidivas.com.
Scholarship requirements:
Must be a woman, 21 years of age or older.
Must be a person of color, Indigenous, Black, or from underrepresented communities.
Must have personal motivation to learn in the ski discipline.
Must be a citizen or permanent resident of the United States of America, includes DACA.
Must complete and submit the scholarship application by December 20, 2022.
The Scholarship application can be found here, or you can download the application here and submit via email to jessica@skidivas.com with subject line 'Ski Camp Scholarship Application'. If you wish to receive a paper copy of the scholarship application with a pre-stamped return envelope please call 307-690-3683 to request one. The application period is open from Nov 15 to Dec 20, 2022. Scholarship recipients will be announced by the week of Feb 5, 2022.
Thank you to our sponsors and donors for their generous support of this ski camp: Outdoor Research, Osprey Packs, Jackson Hole Mountain Resort, Exum Mountain Guides, Medicine Wheel Wellness, and anonymous donors.
If you are interested in supporting this camp, please email jessica@skidivas.com
Photo copyright Mary McIntyre