A women's only backcountry ski camp offered by Exum Mountain Guides and Ski Divas founder Jessica Baker.  Featuring 6 nights of lodging at the Alpine House in Jackson, WY, 4 days of backcountry skiing in the Tetons, and 1 day ski lesson/skills foundation building at Snow King Mountain (or a day of rest or another day of backcountry skiing). 
This camp is the ultimate introduction and immersion into the true backcountry ski experience.  Surrounded by other women seeking a similar adventure, this is a supportive and safe environment to experience backcountry skiing. Whether you are already a backcountry enthusiast, or you have been wanting to gain experience in the backcountry, this camp is for you. Come hone your backcountry skills, get more in shape for hiking and skiing than ever before, empower yourself in the backcountry, ski powder snow, and find tranquility in the wild places you will explore in the Tetons. 
This camp caters to the first time backcountry skier as well as experienced backcountry skiers. We will ski terrain that will keep everyone engaged, challenged, and fun! We do ask that you come with an advanced to expert skiing skill base, are comfortable skiing a variety of conditions (especially powder, but also crud, firm snow, etc), and consider yourself fit.  If you have any questions regarding your level, please feel free to consult with Jessica at jessica@skidivas.com, or you can call 307-690-3683.
For those interested, during the women's backcountry ski week there will be opportunities for morning and/or evening yoga during each day of the camp, and discounted massage and spa treatments as well.
The Exum Backcountry Ski Weeks offer you the chance to enjoy some of the most impressive terrain in the country while increasing your knowledge of snow science and terrain evaluation. Learn about ski mountaineering, ski blower powder in the trees, and watch your technical abilities improve under the guidance of PSIA-certified instructors, AMGA certified guides, and Freeskiing champions. Afterwards, enjoy amazing meals, listen to stories from legendary Teton skiers, and get pampered while enjoying the luxuries of a Bed and Breakfast.
Cost:
$1,700 with double occupancy lodging at the Alpine House
$2,135 with single occupancy lodging at the Alpine House
This cost includes 6 nights of lodging, 5 days of guided skiing, breakfast, bag lunch, and a camp finale dinner at the Alpine House.
Please in inquire for pricing sans lodging: jessica@skidivas.com
Go to Exum Mountain Guides website for more information, or contact Jessica Baker at jessica@skidivas.com, or call her at 307-690-3683 for more details.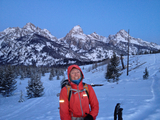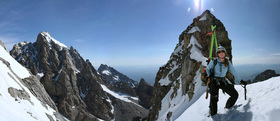 For this camp you will need a backcountry skiing setup. If you do not own your own gear we work with several ski shops in town that offer great demos (boots, skis, bindings, skins, and poles) to fit your needs.
What we provide:
Shovel
Probe
Avalanche Beacon
What you need to bring and/or rent:
backcountry skis with touring bindings
skins pre-cut that fit your skis
adjustable backcountry ski poles
shell ski pant (Gore-Tex or water resistant softshell)
Shell jacket waterproof/windproof Gore-Tex or similar
midlayer (fleece, softshell, or active insulation)
Down or synthetic down jacket
2 pairs gloves (or a pair of glove and mittens) one lighter for ski touring uphill, and one warmer thicker for the downhill and cold days
goggles with spare lenses for sunny or cloudy days
sunglasses
warm knit hat/beannie
helmet (if you wear one skiing)
backcountry ski backpack 25 to 40 L in volume with the ability to strap skis on the pack
pocket snacks
camera (optional)
2x water bottles 1L each