Photo copyright Pat Clayton
The women's only backcountry ski camp offered by Exum Mountain Guides and Ski Divas founder Jessica Baker.  Featuring 6 nights of lodging at the Alpine House in Jackson, WY,  4 days of backcountry skiing in the Tetons, and 1 day ski lesson/skills foundation building at Snow King Mountain (or a day of rest if needed). 
This camp is the ultimate introduction to the true backcountry ski experience.  Surrounded by other women seeking a similar adventure, this is a supportive and safe environment to experience backcountry skiing.  Come hone your backcountry skills, get more in shape for hiking and skiing than ever before, empower yourself in the backcountry, ski powder snow, and find tranquility in the wild places you will explore in the Tetons.
For those interested, during the women's backcountry ski week there will be opportunities for morning and/or evening yoga during each day of the camp, and discounted massage and spa treatments as well.
The Exum Backcountry Ski Weeks offer you the chance to enjoy some of the most impressive terrain in the country while increasing your knowledge of snow science and terrain evaluation. Learn about ski mountaineering, ski blower powder in the trees, and watch your technical abilities improve under the guidance of PSIA-certified instructors, AMGA certified guides, and Freeskiing champions. Afterwards, enjoy amazing meals, listen to stories from legendary Teton skiers, and get pampered while enjoying the luxuries of a Bed and Breakfast.
Cost:
$1,700 with double occupancy lodging at the Alpine House
$2,135 with single occupancy lodging at the Alpine House
Please in inquire for pricing sans lodging: jessica@skidivas.com
Go to Exum Mountain Guides website for more information, or contact Jessica at jessica@skidivas.com, or call her at 307-690-3683 for more details.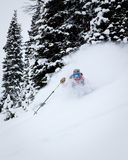 Photo Copyright Andy Bardon