Every once in a while a line strikes deep in the heart of your imagination.  It taunts you to climb it, it keeps you up at night thinking about its difficult cruxes, and you wonder to yourself…when and how am I going to send this thing?  Climbing is a fine balance between strength, agility, finesse, technique, and mental fortitude.  On any given day a climb can crush you, and on another, the right mix of the forementioned comes together to present a brilliant lead on the sharp end of the rope.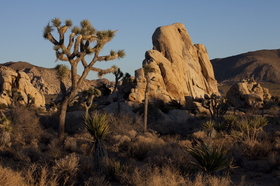 For the last three Fall seasons, I have traveled to test my strength and climbing skills on the sharp and unforgiving quartz monzonite granite domes of Joshua Tree National Park.  There are thousands and thousands of climbs to choose from, but every year, I have stared up at one of the most striking lines in the park, Illusion Dweller; a sustained and steep 120 foot crack that splits one of the more difficult portions of rock in the park.  The route is rated at 5.10b, but might as well be a 5.11 in my book, because the line just doesn't let up.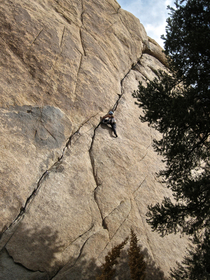 For nearly three years I have envisioned myself leading this route, and finally the cards came together this year.  As I balanced my way up the thin and intimidating finger crack off the ground, I started to think of all the training, all the mental preparation, all the failures, and successes that had led me to this point.  The outcome was confidence and a deep drive to push through my fears, to overcome the challenge of the climb ahead.  I shifted into the hand crack portion of the route, stemming and smearing my feet as my arms began to pump out, plugging gear… half way… the looming crux of the route held fast above me, a roof, which required the hardest pull down of all…. shake it out… you can do this… almost there… don't let go.  At the roof.  It bulges above me.  My fingers are hot and swollen, my biceps and shoulders are bulging, my forearms are torched.  I reach for the thin hand jam in the roof, plug my purple cam, and then my feet, up and over, smear the feet, stay with it, don't fall… palm the sloper, mantle, and up!!!  I did it!